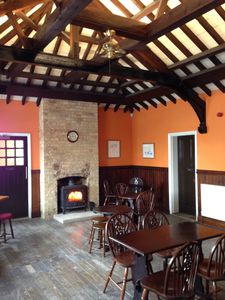 The Haymakers opening times are:
17:00–22:00 Monday–Wednesday (food served 17:00–21:00)
12:00–22:00 Thursday–Friday (food served 12:00–15:00 and 17:00–21:00)
12:00–22:00 Saturday–Sunday (food served 12:00–21:00)
It is now a requirement for us to provide table service inside and outside. We are working on ways to make this as easy as possible in our outdoor area. You can order food and drink to your table using your phone and your table number. Or, if you are sitting outside, let us know you are here when you log your track and trace details and we will come to you.
Masks are now required to be worn when moving around the pub. You do not need to wear one when sitting at your table.
Well behaved children are welcome but under the terms of our premises licence, may not be on the premises after 9pm. They must be accompanied at all times by an adult and may not approach the bar.
We have made a few changes to how we operate in order to follow the guidelines issued by the government. Indoor seating is by table booking only. We are taking bookings online and charging a small deposit which will go towards your bill.
When you arrive at the pub, tell us your name and booking number and we will show you to your table. You must adhere to regulations regarding social "bubbles" and may not sit in a group of more than six. Please don't book multiple tables in order form a group larger than 6 people. We will be unable to honour the booking.
We will hold your table for half an hour after your booking begins. If you don't turn up and don't contact us to let us know you're running late, we may give your table to somebody else. You will also lose your table deposit. If you're running late, please just let us know and we'll hold the table.
You don't need to book to sit outside, and it is possible to sit in groups of up to six from multiple households. PLEASE don't move the tables around outside. There are sanitiser and glass return points throughout the pub and garden; please use them, and follow the one way system to go to the bar and toilets.
We appreciate that under the guidelines it is not possible for you to rush indoors and congregate in the event of a summer rain-shower so we've installed a purpose-built marquee over most of the lower car park. This provides some welcome shade from the sun and protection from the weather, while keeping the benefits of outdoors.
While we do accept cash, we strongly encourage card/contactless payment or paying online.
Follow @HaymakersCam on Twitter
54 High Street
Chesterton
Cambridge
CB4 1NG
Tel. 01223 318077