What changed on Monday 19th July?
We've decided not to change anything for now, in order to protect our staff. Please continue to sit outside when possible, wear a mask while moving around indoors, and order at your table rather than at the bar.
The reason for this is that our staff are mostly young and not yet fully vaccinated. If any of them caught COVID it's likely we would have to close the pub for at least 10 days.
Opening times:
Monday–Friday: 4pm–11pm (Kitchen 5pm–9pm)
Saturday: 12pm–11pm (Kitchen 12pm–3pm/5pm–9pm)
Sunday: 12pm–10pm (Kitchen 12pm-4pm)
We're not taking bookings, please just turn up!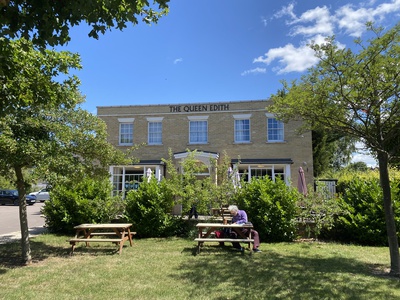 Follow @QueenEdithPub on Twitter
The Queen Edith Public House
Wulfstan Way
Cambridge
CB1 8QN
Tel. 01223 318536